Best Community for Music Education
Berkley Schools was named a 2018 Best Community for Music Education for the 7th year in a row!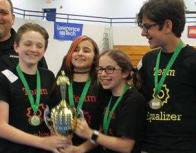 Norup Robotics 4th in World!
Congratulations to the Norup Robotics Team who received fourth place for a Junior Exhibition project at the World Robofest competition! Team Equalizer also finished 1st in the State.
Norup International School joins over 3,500 IB World Schools worldwide authorized to teach the Primary Years Programme and Middle Years Programme. For more information about the International Baccalaureate programmes, please select the IB tab on the top menu. IB's mission is to provide a better world through education.
News & Announcements

2018-19 NIS Calendar


PYP Suggested Supply List


MYP Suggested Supply List

Annual Education Report:


Norup International School AER: 2016-17
Welcome to Norup!
14450 Manhattan St, Oak Park MI 48237
Office Hours: 7:30 am - 4:00 pm
School Hours: 8:15 am - 3:20 pm
Half Day Dismissal: 11:30 am
Main Number: 248.837.8300
Fax Number: 248.547.5558
Attendance Line: 248.837.8330
Norup serves students grades TK-8.
Norup International Calendar
Norup International Calendar

‹

October

2018

›

S
M
T
W
T
F
S
1

Oct 1

7:00 PM to 8:00 PM

Board of Education Study Session

BHS Collaborative Center

District

2
3

Oct 3

Student Count Day

District

Attendance is important for school funding today!

4

Oct 4

9:00 AM to 1:00 PM

Berkley & Royal Oak MLK Event: Life Remodeled Volunteer Opportunity

Life Remodeled Site in Detroit

District

5
6

Oct 6

Berkley Service Day

District

9:00 AM to 1:00 PM

Berkley & Royal Oak MLK Event: Life Remodeled Volunteer Opportunity

Life Remodeled Site in Detroit

District

7
8

Oct 8

6:00 PM to 7:00 PM

NIS Motor Moms & Dads Training

Norup International School

7:00 PM to 8:00 PM

Berkley Instrumental Booster Meeting

AMS Band Room

Norup International School

7:00 PM to 8:00 PM

Board of Education Regular Meeting

BHS Collaborative Center

District

9

Oct 9

NIS Smile Michigan Mobile Dentist

Norup International School

6:00 PM to 7:00 PM

Cancelled - NIS Hot Dog Roast

Norup International School

7:00 PM to 8:00 PM

Norup PTA Meeting

Media Center

Norup International School

10

Oct 10

6:00 PM to 7:00 PM

NIS Motor Moms & Dads Training

Norup International School

11

Oct 11

3:30 PM to 9:00 PM

All City Music Workshop, Grades 7-8

BHS Auditorium

Norup International School

12

Oct 12

NIS Picture Retake Day

Norup International School

13

Oct 13

9:30 AM to 11:00 AM

Saturdays for Success

BHS

District

14
15
16
17
18

Oct 18

6:00 PM to 7:00 PM

NIS K/1 Parent Power Up - New Date

Multi-Purpose Room

Norup International School

This event was originally scheduled for Thursday, October 4.

19

Oct 19

1:00 PM to 3:15 PM

Norup International Fun Run

Norup International School

20

Oct 20

9:30 AM to 11:00 AM

Saturdays for Success

BHS

District

21
22
23

Oct 23

7:00 PM to 8:00 PM

PTSA Council Mtg

BHS Collaborative Center

District

24

Oct 24

7:00 PM to 8:00 PM

NIS Trunk-or-Treat

Norup International School

25
26

Oct 26

8:15 AM to 9:15 AM

NIS Title I Information Meeting

Norup International School

27

Oct 27

9:30 AM to 11:00 AM

Saturdays for Success

BHS

District

28
29

Oct 29

7:00 PM to 8:00 PM

Ski & Snowboardin Club Meeting

AMS Media Center

Norup International School

7:30 PM to 8:30 PM

Berkley Orchestra Association (BOA) Meeting

Orchestra Room (189)

Norup International School

30

Oct 30

7:00 PM to 8:00 PM

BHS/AMS/NIS Halloween Orchestra Concert

BHS Auditorium

Norup International School

31

Oct 31

1/2 Day Students - 1/2 Day Teacher PD

District

10:30 AM to 11:30 AM

NIS PYP Halloween Parade

Norup International School